Wally Peer wins on Lake Hopatcong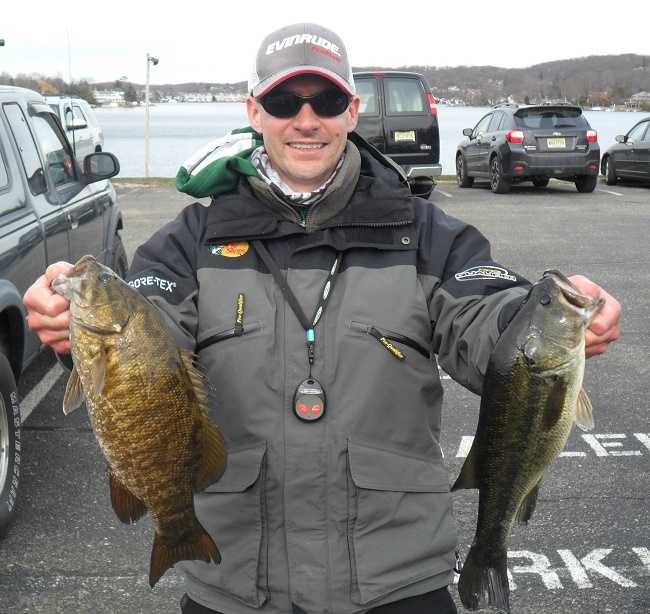 ATHENS, Ala. –Wally Peer won the American Fishing Tour, presented by American Bass Anglers, New Jersey Division 10 tournament, held 4-7-18, on Lake Hopatcong.
Div. 10 launched out of Hopatcong State Park, on a cold blustery morning complete with a snow squall at send-off. Wally Peer, of Succasunna, NJ caught 5 bass weighing 10.29 pounds. For the victory Peer took home a check for $425.00. It is suspected that Wally was using jerk baits in 42-degree water.
In second among the competitors, Greg Del Russo of Hopatcong, NJ caught two fish with a total weight of 5.12 pounds. Del Russo's anchor fish was a 4.04 Large Mouth which collected the side Big Fish Pool of$60. Greg caught his with a crankbait and pocketed a check for $212 for second place.
Third place went to Al Paravicini who had two fish for 4.55 lbs.
The next divisional tournament will be held on FRIDAY 4-13-18, on Lake Hopatcong out of Lee's Landing. Any questions can be directed to local Division 10 Director Don PHILPOT at 513.405.6702
For more information, call ABA at (888) 203-6222.On line, see www.americanbassanglers.com.
These anglers are earning valuable points toward the divisional angler of the year title. The points champion from each division will compete in the annual American Bass Anglers AFT Angler of the Year Final Round at the American Fishing Tour National Championship.
The American Fishing Tour offers low cost, close to home bass tournaments that are designed for the weekend angler. All ABA anglers fish for money and points. The points advance the angler to their divisional championship and the top 500 anglers in the US are invited to the American Fishing Tour National Championship. For more information on American Bass Anglers please visit www.americanbassanglers.com or call (256)232-0406.
American Bass Anglers, Inc. is supported by Triton Boats, Mercury Outboards, Optima Batteries, GEICO, Berkley, Abu Garcia, T-H Marine, Livingston Lures, Best Western Hotels, Maui Jim, Power Pole, Garmin, and SiriusXM Marine Weather. American Bass Anglers, Inc. can be contacted at (256) 232-0406 or by visiting americanbassanglers.com