6/18/2018

ABA COMES TO STOCKTON LAKE JUNE 23
Thirty plus of the best bass anglers in the Ozarks are expected to converge on Stockton Lake Saturday morning, June 23, 2018 for the American Bass Anglers AFT qualifying tournament. Launch site is Hartley Ramp (Old State Park). Registration can be done at the ramp starting at 4:30 a.m. Weigh-in will be shortly after 2:30 p.m. Anglers will fish from 5:30-2:30.
6/18/2018

James E. Johnson Wins on the Roanoke River
James Johnson, of Windsor, NC won the AFT Division 17, North Carolina Central tournament on the Roanoke River. The event was held on the Roanoke on 16 June 2018, launching out of the Water Street Ramp in Plymouth, North Carolina. James caught 5 bass weighing 19.80 lbs. James said he ran out across the Bay and caught his fish on Soft Plastics. James also had big fish of the tournament with a 6.99 Kicker. Congratulation James.
6/15/2018

Anthony Kaylor wins on Lake Zoar
ATHENS, Ala. – Anthony Kaylor won the American Fishing Tour presented by American Bass Anglers, Connecticut Division 6 tournament, held on 6-9-18 at Lake Zoar.
Running out of the State ramp landing near the town of Southbury Connecticut, the West Point, New York active duty marine angler caught a 5-fish limit of smallmouth bass weighing 13.82-pounds. He said he caught his fish with a Fish Styx custom rod, ardent reel and a weightless Gambler Little Easy swimbait with a 1.0 wide gap hook fishing in 4 to 14 feet of water. Included in his bag was a 3.99 smallmouth that proved to be the big fish of the day. For the victory, he took home $490.00 for both awards.
6/14/2018

Donald Griffith Takes the win on Tensaw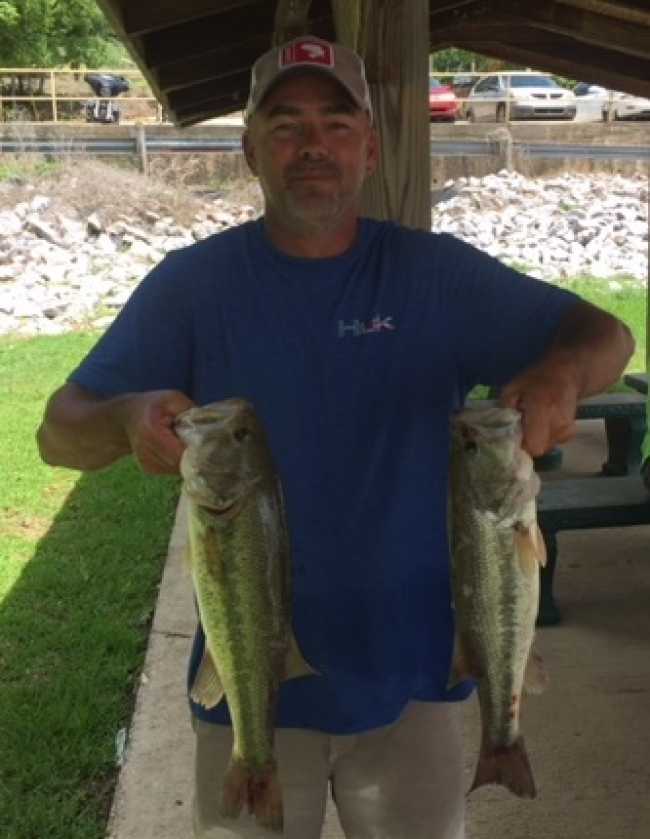 Donald Griffith of Robertsdale, AL takes the Alabama Mobile Division 41 Two-Day Championship win. Running out of Cliff's Landing near Bay Minette, AL, Donald brought back a five-fish limit both days for a total weight of 23.68 pounds. He anchored his catch and sealed his victory with the biggest fish of the tournament, that bass locked in the scales at 3.99 pounds. Donald also sealed his spot as the Angler of the Year for Alabama-Mobile Division 41, earning his spot to compete in the annual American Bass Anglers AFT Angler of the Year Final Round at this years AFT National Championship to be held on Lake Hartwell in Anderson, SC October 21-26.
6/13/2018

Doug Shrum Wins the ABA District 42 Tournament on the Arkansas River
The third D42 tournament of the 2018 season was contested on the Arkansas River/Pine Bluff Pool launching out of Regional Park. 14 anglers came out and were greeted with high humidity and heat indexes in excess of 100 degrees making fishing conditions tough. A breeze started up mid-morning making the day almost bearable.
6/12/2018

BRIAN BISHOP WINS D72 ON SINCLAIR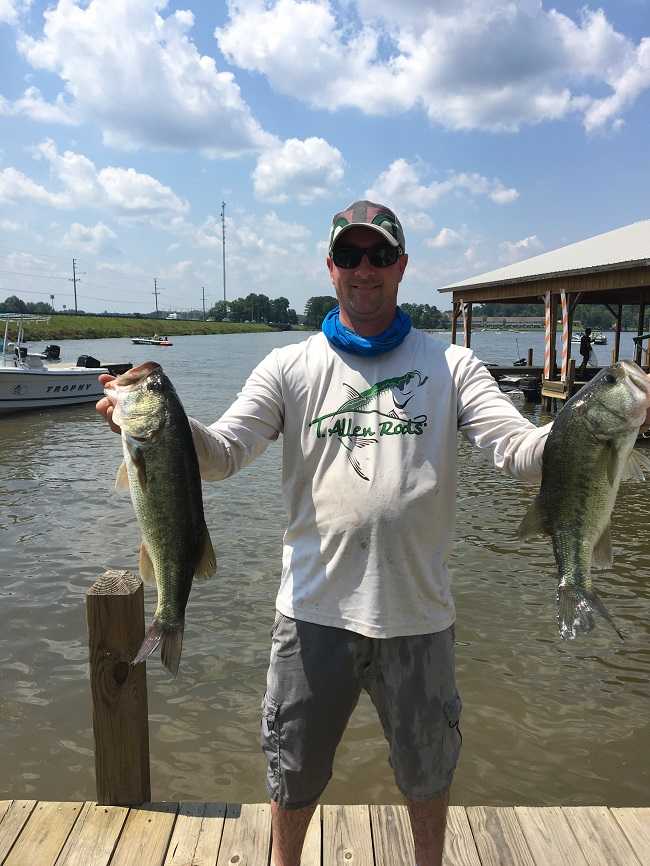 Brian Bishop of Haddock, Ga brought the winning sack of five bass weighing 15.05 pounds to the scale for the AFT D72 tournament at Lake Sinclair on June 10, 2018. Brian concentrated his efforts on flipping docks with a big Zoom worm. He won $735 cash, and a first place trophy.
6/05/2018

Reid McGinn Takes D12 Championship win
Athens, Al - Reid McGinn of Fort Mill, SC won the American Fishing Tour division 14 Championship tournament on Lake Norman in Mooresville, NC with ten-fish weighing 25.06-pounds held on June 2nd and 3rd 2018.
It was hot and muggy throughout the two-day championship on Lake Norman, with mostly sunny conditions and light and variable winds. A field of 18 anglers turned out to fish and face yet another change in the weather and fishing patterns. The heavy downpours throughout the two weeks preceding the championship had the lake level full to the brim with lots of debris floating down the lake from the effort to control the massive amounts of water dumping into the river system.
6/04/2018

Mike Sims Takes the win on Kerr Reservoir
It was a good day of fishing today on Kerr Lake, despite the rains. Most people came off the water a bit early due to a thunderstorm with lightning. That said, 22 anglers donned rain suits and competed in this AFT division 13 event at Rudds Creek. 15 of the 22 brought in 5 fish limits. Most of the fish came on plastics today, with reports from the fishermen that the fish hit just about any bait that hit the water. Unfortunately, most of the fish were small. Fishing predominately plastics - worms and brush hogs - Mike Sims of Suffolk Virginia captured the win with five nice fish that tipped the scales at 13.68 pounds. This was Mike's last event with the Virginia division as he is about to make the move to Mississippi. For the win, Mike claimed 1st place monies of $559.
6/04/2018

Derek Johnson Takes the win on Oconee for D72
Congratulations to Derek Johnson of Lumber City, Ga for bringing in the winning sack at Lake Oconee on June 2, 2018, for the AFT D72 tournament. Derek caught his five best fish using jigs and shaky heads. His total weight was 14.00 pounds, and Derek took home $801 for the first place finish.
6/04/2018

D66 Heads to El Dorado Lake
Division 66 tournament at El Dorado Lake on Sunday 10 June 2018. The launch site is the Blue Stem #1 boat ramp. Registration will start at 4:30 a.m. Morning meeting and safety briefing will start at 5:15 a.m. We will launch following the morning meeting and fish until 2:00 p.m. Entry Fee is $70, optional Big Bass pot is $10. American Bass Anglers membership $35. All Division 66 tournaments held at El Dorado Lake will have a 4 fish limit of 15 inches or longer. Boaters are required to supply a backseat for their non-boaters.