5/23/2018

Jason Dies Wins Tournament On Old Hickory Lake
ATHENS, Ala. – Jason Dies won the American Fishing Tour, presented by American Bass Anglers. Central Tenn. Division 31 tournament held 05/20/2018 on Old Hickory Lake. With the tournament running out of Bull Creek Ramp near Gallatin TN. The Lebanon, TN. angler caught five-bass weighting 12.35 Lbs. For the victory, Jason took home a check for $294.00.
5/22/2018

Dan Rose wins at Long Pond
ABA AFT Division 5 held a tournament on Sunday, May 20, 2018 at Long Pond, Harwich, MA. It was cloudy, windy and raining when the anglers showed up for registration. The north wind was blowing at 10-20 mph and remained steady until late mid-morning. According to most, the bite was an early one and seemed to turn off when the sun broke through the clouds and the wind shifted to the SSW. One would think the opposite pattern should have taken place. Nevertheless, we had some beautiful smallmouth & largemouth weighed in for a total of 44 fish weighed in with a combined weight of 75.08 lbs. for an average weight per fish of 1.71 lbs.
5/21/2018

Doug Davis wins D114 Two-Day Championship
Doug Davis from Chipley, Fl is one step closer to the American Fishing Tour National Championship with a first-place win in the American Fishing Tour Seminole Division 114 bass tournament held on Lake Seminole May 19& 20, 2018. Doug's 2 limits weighed in at 42.18 pounds. Big Bass was awarded to Doug Davis for catching a 7.76-pound largemouth bass.
5/21/2018

Gary Singleton Claims D40 Championship Title
American Fishing Tour Division 40 held it two-day championship on May 19 and May 20 on Kentucky Lake out of Pebble Isle Marina. On the second day of the tournament, Gary Singleton of Dickson, TN, brought in the largest bag of the tournament at 21.31 lbs. This weight gave him first place with a total of 30.04 lbs. He took home $804 for the victory. Eddie Scott of Waverly, TN took second with a two day total of 27.34 lbs. He took home $374. Big fish of the tournament was 6.36 lbs. Tom O'Bryant of Cedar Grove, TN took home $120 for that fish.
5/21/2018

Kameron Harbin gets the win on Clarks Hill Lake

Athens, Ala. Kameron Harbin of Abbeville, SC won the American Fishing Tour, presented by American Bass Anglers, South Carolina Division 96 1-day qualifier held May 20, 2018 on Clarks Hill Lake running out of the Dorn Boating Facility near McCormick, SC.
There were 25 anglers fishing this Division 96 1-day qualifier tournament out of the Dorn Facility near McCormick, SC. First place, Kameron Harbin had the Level Performance Rod Big Sack with 5 fish weighing 15.20 pounds for the win. Kameron fished the lower part of the lake early catching fish on the top water herring bite. He then traveled to the upper part of the lake and finished the day catching fish on frogs. The payback for first place and first place option earned Kameron $740 with the first-place trophy.
5/18/2018

AFT DIVISION 96 BRING–A–YOUTH TOURNAMENT
South Carolina Division 96 of the Ram American Fishing Tour is holding the 4th Annual Bring A Youth Fishing Tournament. It will be held again on Lake Greenwood out of Lake Greenwood State Park near Ninety Six, SC on Saturday, May 26th 2018 (the photo is of our last year winners).
5/18/2018

Connecticut D6 5/19 Tournament Canceled
The Connecticut D6 tournament on Lillinonah on 5/19/18 has been canceled, due to hazardous weather conditions and tornado damage.
The next event in this division will be held 06/02/2018 on Colebrook.
For full schedule click here
For more information about this Division and future events visit www.americanbassanglers.com or contact the local Director for Connecticut, Tom Dupuis at 860-987-7371 or Assistant Director Gary McClarran at 203-578-5012.
5/17/2018

Richard Bates wins in a big way on the Chickahominy River
In what turned out to be a lopsided victory Richard Bates scored a four pound margin of victory on the Chickahominy River May 12. "This was a personal best for me on this river. Everything just fell into place today. All my fish came fishing Zoom plastics shallow. There had to be cover of some sort to find the fish. Every bite came when my bait was in contact with wood of some sort. The big fish followed the bait out from wood and struck a few feet after I had contacted the cover," said Bates.
5/16/2018

Danny Flynn Wins on the Roanoke River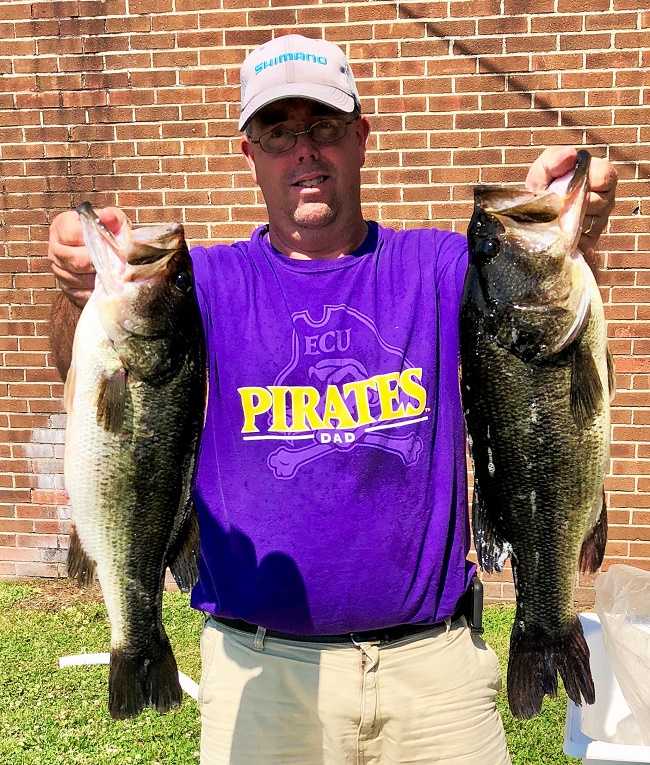 Danny Flynn, of Bethel, NC won the AFT Division 17, North Carolina Central tournament on the Roanoke River. The event was held on the Roanoke on 12 May 2018, launching out of the Water Street Ramp in Plymouth, North Carolina. Danny caught 5 bass weighing an impressive 21.09 lbs. Danny said he ran to the Cashie River and caught his fish on worms. Congratulation Danny. Danny also had big fish of the tournament with a nice 7.17 kicker.
5/15/2018

Houston McSwain Takes D40 win on Kentucky Lake
American Fishing Tour Division 40's last one day tournament was held on Kentucky Lake on Saturday May 12, out of Pebble Isle Marina. Houston McSwain of Jackson, TN brought a limit to the scales that weighed 15.54 lbs. He took home $522 for his first place finish.