2/22/2018

Wayne Davenport Wins on Lake Hartwell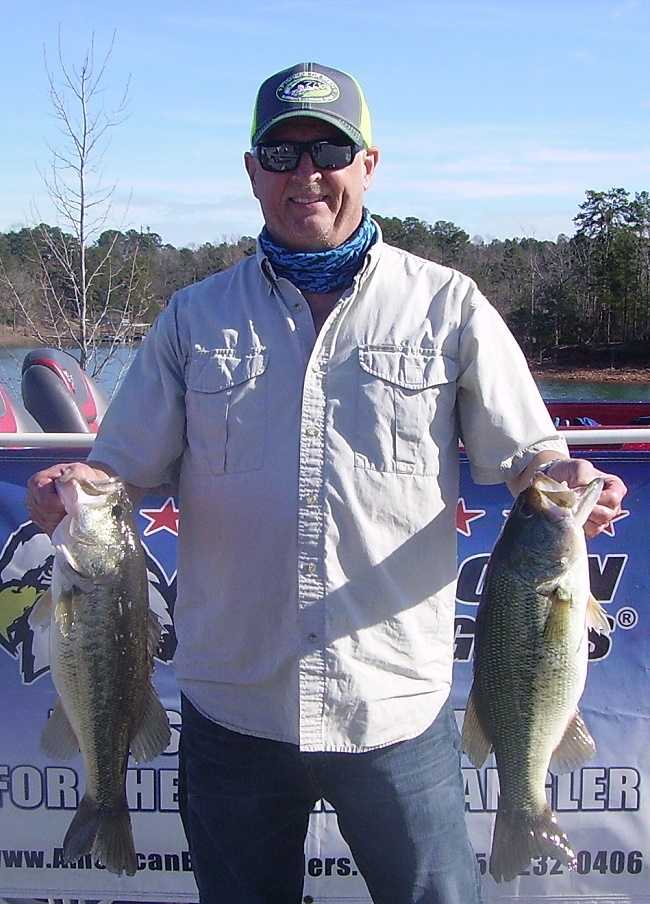 Wayne Davenport of Anderson, SC won the American Fishing Tour Division 25 tournament on Lake Hartwell held February 18th. Wayne brought in a 5-fish limit weighing 15.22lbs and earned $559.00 for the win
2/22/2018

AFT Arkansas Division 50 Event Cancelled
Due to high water and weather issues the American Fishing Tour Division 50 event scheduled for 2/24 on Lake Maumelle in Arkansas has been cancelled. The event will be rescheduled soon.
2/21/2018

Fred Needham Wins 1st Tournament of the Season at Percy Priest
ATHENS, Ala. – Fred Needham won the American Fishing Tour, presented by American Bass Anglers. Central Tenn. Division 31 tournament, held 02/11/2018 on Percy Priest Lake. Running out of Fate Sanders Marina near Nashville, TN., the Portland, TN. angler caught two-bass weighting 4.75Lbs. Fred took home a check for $294.00 for his victory.
2/21/2018

Paul Tickerhoof Takes the win on Clarks Hill
Paul Tickerhoof of Appling, Ga took first place in the AFT D26 event on February 18th held on Clarks Hill. Running out of Wildwood Park near Appling, GA Paul brought back a five-fish limit to the scales that weighed 13.89. He anchored his catch and sealed his victory with a 4.25 pound largemouth, which also claimed big fish honors for the tournament. Paul was fishing the upper end of the Savannah River using crank baits.
2/18/2018

New Tournament Director for Kentucky Lake
Athens, AL. Kentucky Lake Division 32 has a new tournament director for 2018. Buddy Wallace of Cedar Grove, TN will run a full schedule of AFT Tournaments on Kentucky Lake starting March 4th out of Paris Landing.
This division has a lot of history, being founded by active duty military out of Fort Campbell and is one of the oldest divisions of the American Fishing Tour.
2/16/2018

Eric Turner Wins the ABA District 47 tournament on Lake DeGray
The last 1-day qualifying tournament of the American Fishing Tour D47 was held on 10 Feb 2018 on Lake DeGray launching from the spillway ramp. 14 anglers came out and were greeted with rainy and foggy conditions. A recent warming trend had given way to cooler temps keeping the water temps in the mid 40's across most of the lake. Lots of fish were caught, but not to many larger fished crossed the scales.
Eric Turner topped the field with five fish for a total weight of 9.40 lbs. Eric fished a homemade custom color jig with a Slider trailer on a Dobyns 743 HP and Lew's reel spooled up with 17lb Vicious Pro Elite Fluorocarbon line.
2/14/2018

An Awesome Day on the Water
Every angler dreams of going out and catching a huge stringer to bring back to the scales. For Trent Hill of Sneads, Fl that dream became a reality February 4th on lake Seminole. He sacked up an impressive 35.10 pounds at an American Bass Anglers, American Fishing Tour tournament.
We reached out to Trent to talk to him a little about his catch.
2/12/2018

Randall Woodham Wins Oconee for D72
Randall Woodham of Social Circle, Ga was able to navigate the thick fog
and bring in a 5-fish limit weighing 11.72 pounds for the win on Lake Oconee
for D72 on February 10, 2018. Randall caught his fish on a jig, and he
went home with $695 for the day.
2/06/2018

Trent Hill Takes the win on Seminole
Trent Hill from Sneads, FL is one step closer to the American Fishing Tour National Championship with a first place win in the American Fishing Tour Seminole Division 114 bass tournament held on Lake Seminole February 4, 2018. Trent's limit weighed in at 35.10 pounds. Big Bass was awarded to Trent Hill for catching a 9.37 pound largemouth bass.
1/29/2018

Jimmy Little Takes the Win on Sinclair
With mild temperatures, D72 had a great turnout of 50 anglers on January 27, 2018 at Lake Sinclair! The sky was cloudy and water temperature was about 48 degrees.